It's been 47 years since the Jackson 5 knocked the Beatles off the charts with "ABC." It's what you could call a groundbreaking moment, and if you've got the tune in your head now, first – you're welcome, second – what a testament to that little song's staying power in our collective imagination.
Those of us in the learning and development space had our own Jackson 5 moment when the 70:20:10 ratio was popularized in the mid-90s (more on this below). And talk about staying power! Although it wasn't fully adopted by the L&D community until 2011, it has become mantra, especially at conferences. After all, who can argue with the Center for Creative Leadership? Certainly not I. However, I might argue for a bit of moderation.
Let's define the terms here. Based on an important survey that asked 200 executives to describe their own learning styles, the Center for Creative Leadership determined that successful and effective managers, as a group, tend to absorb meaningful information through approximately the following ratio of experiences:
70% from challenging assignments
20% from developmental relationships
10% from coursework and training
As a veteran learning strategist and senior learning consultant, I get the opportunity to work with many great companies and competent learning professionals who get the value of the 70-20-10 model for learning. There is not an RFP or client discussion that takes place in which it doesn't come up as the preferred model.
On a recent project, a colleague of mine and I were aligning our learning interventions against the 70-20-10 model to validate a good mix of the modality blend. Much to our chagrined laughter, we realized we were looking at this formula in a different way.
Over the next few weeks, we'll be posting more about 70-20-10, explaining why it's more of a guideline than an actual rule, and identifying our responsibilities as learning leaders – which, uncomfortable as it may be, includes examining some ideas the industry holds dear.
Many people expect solutions to fit into the boxes at the identified percentage. Trouble is, people don't belong in boxes! Maybe my ABCs aren't the same as yours. But we'll always have the song.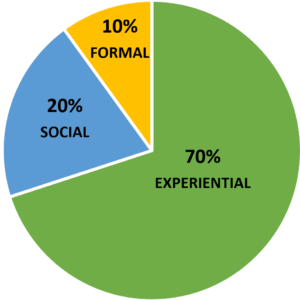 NEXT (2 of 4): A STICKY SITUATION: INVERTING 70-20-10